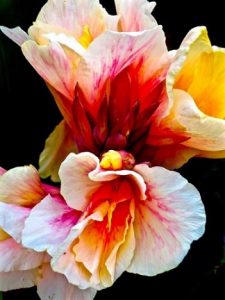 You are no longer where you were and not sure what's ahead for you. It is natural to collapse and stand tall over and over until you find your rhythm. Change happens.
It is amazing we never had classes in school that prepared us for the unexpected. I know we are spread across the country and want a place to share and learn new ways to live with the unknown.
Therefore, again, I am happy to offer my facilitating and presenting during our hour virtual gathering. I hope you join us.
Space is limited in order for each person to have a safe time to share. Who knows, you might meet someone who lives right down the street from you. This happened with two women in New Jersey.
We all commit to "nothing we share leaves this room".  There will be experiential learning so have paper and pencil.
Time: Pacific time, 6:00pm. Eastern time, 9:00pm –  one-hour virtual session
Dates: Monday: June 4, 11, 18,
How:  You will be sent a link to meet on ZOOM once you register.
Cost: Each conversation is $40.00, bringing the total three sessions to $120.00.  The group is counting on you, so sign up is for all three, one-hour sessions.
Contact and Registration: Natalie looks forward to speaking with you. You can email her, natalie@lifeintransition.org or call her at her Los Angeles office, (800) 446-3310 or (310) 454-0040, Pacific Time.
Payment: Square is available which will be invoiced to your email address. Very easy.
Natalie Caine M.A re-invented her career to fit a new passion—helping people travel their road of change. She is an honest, humorous, compassionate teacher who is packed full of suggestions for the unexpected. She knows these roads because she had to figure it out and learn from a long list of unexpected changes that arrived over and over during her life.  Just ask her and she is happy to share with you her experiences. 
She has shared wisdom, tips, and comfort with thousands of people across the globe as they deal with happy and challenging life transitions and has been a top speaker at resorts and spas, RANCHO LA PUERTA, THE GOLDEN DOOR, CAL A VIE, RED MOUNTAIN, OJAI, as well as conferences, private and corporate settings. Natalie mentors all ages which includes how to say what you want to say so you expand rather than contract a conversation and how to discover what matters to you now and turn that into creative work. 
Natalie is a regular contributor to The Wall Street Journal and has been featured in top media, including Time Magazine, USA Today, Huffington Post, MariaShriver. com, Better Homes and Gardens, N. Y. Times, L.A. Times, Washington Post, Lifetime Radio for Women, Chicago Tribune, and Miami Herald. 
She is looking forward to participating at The GLOBAL WELLNESS SUMMIT in Italy, sharing that learning with you, and visiting friends and family over the summer months.
You can always find Natalie cooking, re- arranging the furniture, walking in nature, writing and reading in bed, where she just doesn't want to give up pretzels and mustard.
Natalie loves chatting about movies that freaked her out or brought her to tears. She starts her day looking out the window excited to see the beauty.  Her inner world is a daily practice, as well as, analyzing her sleep dreams.
Happy moment is when her daughter calls to share a night dream she had!  She is voted by her friends the most likely to get it done, let it go, make you laugh, and feed you well.  She is not the one they ask to go skiing unless that means sipping and sitting by the fire with you.
Her motto is be a kind role model. Her pet peeve is people who double park blocking a lane.
She wants to hear from you. Email Natalie or call to be a part of this Virtual Gathering and for registration.  Everyone gets uplifted from each other because they realize they aren't alone.
Take care,
Natalie